A mother looking for the best training for her very passionate dancer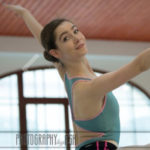 As a mother looking for the best training for her very passionate dancer, PSB & INTERPLAY kept coming up as the studio I should choose. Rebekah came from a comp studio which focussed on tricks at the expense of technique. Her goal was to get into Canada's National Ballet School for grade 7. Karen assessed her and suggested the best schedule for her to accomplish this goal. Karen and her staff are simply the best. Focussing on the fundamentals, openness and performance, they transformed Rebekah. In this era of Instagram stars, it's hard to compete with extreme poses and flashy feet. But that's not what gets you a career in dance, if that's what your child wants. Rebekah got into NBS and in our interview we were told we had done rightly by attending PSB & INTERPLAY. Rebekah will be graduating NBS this year, grade 12 and is planning on post secondary training in Europe and hopefully a career in ballet. Slow and steady wins the race. From playing Marie in the Nutcracker when she first got in, to being one of the dancers chosen to perform in the NBoC gala last year, she wouldn't have achieved her dream without the foundational excellence of Karen's school. Here's to continued success for Rebekah! And PSB/Interplay! We ❤️ you all!!
Karen is an inspiration to my daughter and a loyal friend to me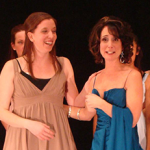 I met Karen when starting her own dance school was a dream. My daughter Tanya was 8 years old, had been dancing since she was 3. Karen took her under her wing and introduced us to INTERPLAY where Karen was a dance instructor. In 1989 Karen started her own school and I helped her with the administrative start-up process. Tanya was the first student to register at PSB. Through the years, although Tanya trained in the junior program at the National Ballet School and full-time at the Royal Winnipeg Ballet School for 2 years, she continued to train with Karen. Today, Tanya is the full-time ballet teacher for the Claude Watson Arts Program at Earl Haig S.S. Karen has always been her mentor and Tanya's teaching and choreography style is inspired by Karen. As for me, I continue to work for Karen as a graphic artist and web designer and we remain good friends. What has made Karen successful is her passion for dance, her devotion to her students, and her highly qualified teaching faculty. She works countless hours. And more than anything, she is a loyal friend.